Connect & Meet new people you Match with, through Astrology Birth Charts!
NUiT App provides you with Astrological Compatibility Insights, empowering you to create more Meaningful Relationships in today's fast paced World.
Natal Chart Insights & CompatibilityDaily Horoscopes & Astrology Forecasts
Explore New People
Explore & reveal interesting People of any Gender & Orientation in your Vicinity, or customize your Search to any Location around the World!
See Your Birth Chart Visualization & Insights
Discover your Birth Chart's Placements, Houses, Aspects & see them Visualized! Read about your Birth Chart Insights & Interpretations and find out how they Influence you!
Unveil & read information for your Matches' Astrology Placements and Charts, on their Profiles.
Calculate Astrology Compatibility / Synastry
At NUiT, compatibility scores are based on Birth Charts, not just Zodiac Signs!
Gain valuable insights into the strengths of your Compatibility with the people you know or discover and tips on how & in which fields you can work to improve your relations.
Read the analysis of your Synastry for each field of Matching, the Placements Considerations & your Scores Breakdown.
NUiT Custom Compatibility Calculations
Secret Crushes, Friends, Family…. Even your favorite Celebrities?
At NUiT you can Manually Calculate your Synastry with any Person of your Interest & Generate their Astrology Chart, by creating their Customized Profiles.
Your Daily Personalized Astrology & Horoscope Forecasts!
Your Astrology & Horoscopes Section is updated Daily, for free.
Stay informed about all the important Planetary Transits & Astrology Events.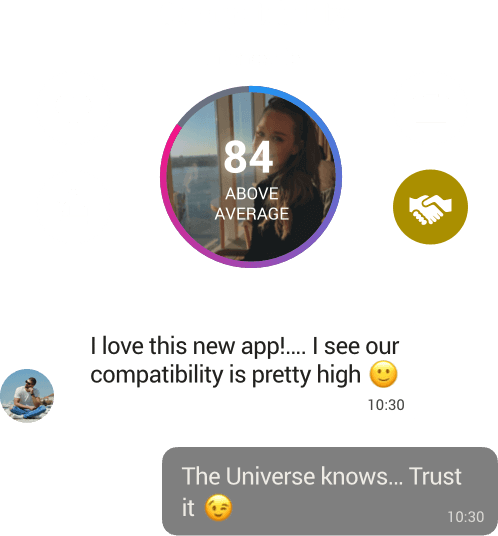 Chat & Connect
Contact the people you desire to connect with and build on the potential of your Relationship.
My NUiT Calculations List
Filter & manage all your Calculations in one place.
Latest Blog Posts & News from the NUiT App's Universe
Check out what's happening in the world of NUiT and stay up to date with our Community! Read new Educational and Lifestyle Astrology posts dig deeper into Astrology Compatibility and Relationships & be informed about all monthly upcoming Astrological Events.